LinkedIn Productivity Tools for your Business
Posted on May 23, 2022
@mmonigeria
I was searching through Linkedin so as to improve my business networking on the social networking site. I came across few things that I have already implemented on my LinkedIn profile. You can check it out and also add me to your linkedin connection. In today's post, you would get to know about some of the LinkedIn's productivity tools you can use to improve your productivity on Linkedin.

With these tools, you can search, build your network, and manage your contacts, all from simple applications.
LinkedIn Outlook Social Connector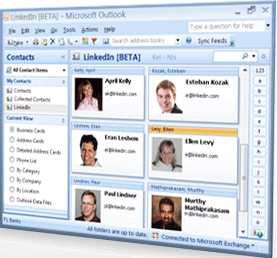 This is useful for your professional network within Microsoft Outlook. You would get more info about your important contacts, see what they're doing, and stay in touch. This tool helps in three ways.
* Access Your Connections In Your Inbox
See the latest LinkedIn activity and profile photo from any connection that sends you an e-mail.
* E-mail Your Connections Directly
Just start typing a name and let the LinkedIn Outlook Connector fill in the rest.
* Keep Building Your Network
Instantly send an invitation to connect from any Outlook e-mail.
Download it Now to get Started
LinkedIn Browser Toolbar
LinkedIn Browser Toolbar helps you to quickly search and access LinkedIn anytime. This is good in the sense that you can access your professional connection quickly anytime. This tool helps in three ways.
* Quick search from anywhere
* Look up people instantly from any website
* Search for names, titles, companies, and job postings
* Save searches for the future
* Direct access to LinkedIn
* Quick and easy one-click access to LinkedIn
* Save and return to LinkedIn profiles of interest
* See LinkedIn profiles of everyone sending you Web email
* See your inside connections at any hiring company
* See your connections at any hiring company when viewing job postings
* Get introduced to hiring managers
* Supports all major Web job boards
Download it Now for Internet Explorer (PC only) :: Download it Now for Firefox (PC and Mac)
LinkedIn Mobile
With this tool, you can find and connect with over 100 million professionals, get the latest updates, and share your status – all from your mobile device.

You can get more information and a copy for your mobile devices below
Linkedin for iPhone – https://itunes.apple.com/WebObjects/MZStore.woa/wa/viewSoftware?id=288429040&mt=8
Linkedin for Blackberry – https://www.linkedin.com/static?key=blackberry
Linkedin for Android – https://m.linkedin.com/android
Linkedin for Palm – https://developer.palm.com/webChannel/index.php?packageid=com.linkedin.mobile

For other mobile devices, please go here – https://m.linkedin.com/
LinkedIn Sharing Bookmarlet
You can use this tool to easily share your webpages with your professional network and groups straight from your browser even when you're not on LinkedIn.

How to Share
1. Find interesting articles
2. Click on "share on LinkedIn" from your browser toolbar
3. Add a comment to put your own spin on it
4. Choose who you want to share it with
To get started, please go here – https://www.linkedin.com/static?key=browser_bookmarklet

Those are the tools you should use after now in order to increase your business's productivity on Linkedin. They are easy to use and very effective.
Originally posted 2011-06-07 16:00:32.
5 Top Posts This Week